The Texas Fund
(BIGTX) Institutional Shares
Contact us
Investment Adviser
Park Place Capital Corporation
2506 Winford Avenue
Nashville, TN 37215
Phone: (800) 459-9084
Shareholder Services
Mutual Shareholder Services
8000 Town Centre Drive, Suite 400
Broadview Heights, Ohio 44147
Phone: (888) 263-5593
Investment Objective
The investment objective of The Texas Fund (the "Fund") is long-term capital appreciation. The Fund is an equity fund.
Principal Investment Strategy
The Fund's principal investment strategy is to invest at least 80% of its assets, less any borrowing for investment purposes, in the common stock of companies either (i) headquartered in Texas based on information provided by Morningstar, Inc., (ii) organized under the laws of Texas, or (iii) that, during the most recent fiscal year, derived at least 50% of its revenues or profits from goods produced or sold, investments made, or services performed in Texas or that have at least 50% of its assets in Texas. In determining whether a company meets this condition, the Sub-Adviser may rely on such information and sources as the Sub-Adviser deems reasonable and appropriate.
The Fund will be invested across a broad market capitalization spectrum, including small, mid and large capitalization companies. The Sub-Adviser typically selects companies in which to invest by performing an initial market capitalization screening of $1,000,000,000 or more. The Sub-Adviser controls for Fund risks by performing fundamental analyses of the initially screened companies. The Sub-Adviser analyzes factors such as financial conditions, industry position, and market and economic conditions and trends to select investments and make buy and sell decisions. Once the Sub-Adviser selects companies in which to invest, the Sub-Adviser initially equally weights the companies within each sector. The Sub-Adviser does not equally weight each sector within the Fund.
The Fund will not invest 25% or more of its assets in any industry or group of related industries. However, the Fund does intend to have a high level of investments in the oil and gas industry due to the Fund's management team's belief that such industry has superior growth opportunities. Except as otherwise permitted by the Fund's non-fundamental policies, any concentration in a specific sector or industry will be under this 25% concentration threshold.
Principal Investment Risks
An investment in the Fund is subject to investment risks, including the possible loss of some or all of the principal amount invested.There can be no assurance that the Fund will be successful in meeting its investment objective. Generally, the Fund will be subject to the following additional risks:
Investment Selection Risk
The Fund's ability to achieve its investment objective is dependent on the Sub-Adviser's ability to identify profitable investment opportunities for the Fund. Market Risk. The value of securities in the Fund's portfolio may decline due to daily fluctuations in the securities markets, including fluctuation in interest rates, national and international economic conditions and general equity market conditions.
Business and Sector Risk
From time to time, a particular set of circumstances may affect a particular industry or certain companies within an industry, while having little or no impact on other industries or other companies within the industry.
Geographic Concentration Risk
The Fund's investments are concentrated in Texas, and therefore the Fund will be susceptible to adverse market, political, regulatory, social, economic and geographic events affecting Texas.The Fund's performance may be more volatile than the performance of more geographically diverse funds.Since one of the main industries in Texas is mining and logging, including the oil and gas sectors, Texas is particularly susceptible to economic, environmental and political activities affecting this industry.
Oil and Gas Sector Risk
Companies in the oil and gas sector may have significant operations in areas at risk for natural disasters, social unrest and environmental damage.These companies may also be at risk for increased government regulations and intervention, litigation, and negative publicity and perception.
Large Company Risk
The Fund may invest in larger, more established companies, which may be unable to respond to new competitive challenges.Additionally, large companies may be unable to attain the high growth rates of successful, small companies, especially during extended periods of economic expansion.
Small and Mid-Capitalization Company Risk
The Fund may invest in small and medium capitalization companies which involve greater risks than those associated with larger, more established companies.Smaller companies may be subject to more abrupt or erratic price movements.
New Portfolio Managers Risk
Although the Fund's Portfolio Managers have managed individual separate accounts in the past, they have not had previous experience managing a mutual fund prior to serving as the Portfolio Managers for the Fund, which may limit the Portfolio Managers' effectiveness.
New Fund Risk
The Fund was formed in September, 2013, and the Sub-Adviser has not previously managed an investment company registered under the Investment Company Act of 1940.Accordingly, investors in the Fund bear the risk that the Fund may not be successful in implementing its investment strategy.
An investment in the Fund is not a deposit of a bank and is not insured or guaranteed by the Federal Deposit Insurance Corporation or any other government agency.The Fund is not a complete investment program.
Fund Subadviser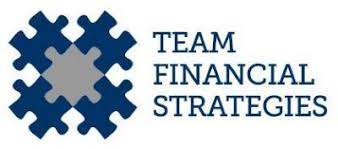 Team Financial Strategies